Sunday, Aug. 10, 2008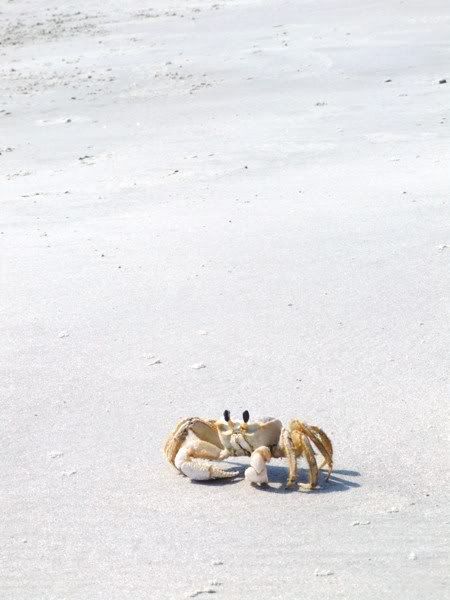 We arrived by ferry on Cumberland Island yesterday, and the last 24 hours have been phenomenal. We're camped in Site #9, the most secluded on the island,* and our tent is completely enveloped by gnarled live oaks and a dense understory of palmettos. A fire ring lies in the middle of camp and, as I write, Brad is starting our evening fire.** We awoke at sunrise (after an unsettling nightly encounter with an armadillo) and walked to the beach, where we spent an hour watching dolphins and pelicans search for breakfast.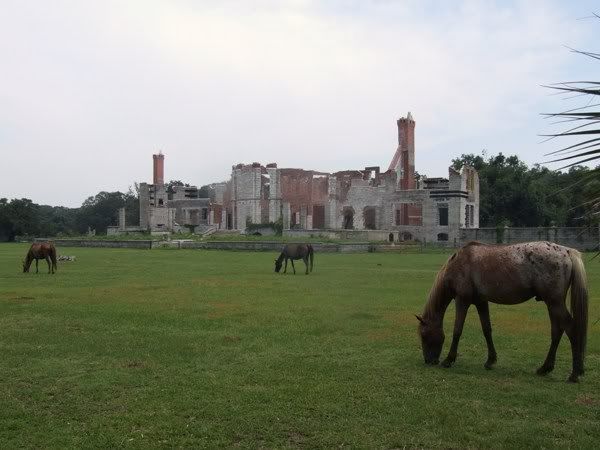 At 9:45 we strolled to the dock hoping to find Susan and Jeff on the ferry. God love 'em, they left Savannah at 6:30 this morning to catch the early ferry and spend the day with us. We all walked to the Dungeness estate ruins on the south end of the island, which were beautiful but nothing compared to the wild horses that grazed in the fields. A cattle egret skittered between the legs of the horses, eating bugs, and a peregrin falcon flew overhead. On our way back, we were drawn to the public dock by the sound of manatees surfacing. Six enourmous cows were floating in the shallows, and their breathing was so loud it sounded as if they were on respirators.*** I hope we can swim with them before the week is over.

We lunched on four-year-old MREs**** left over from Hurricane Ivan (fitting for a visit with Susan and Jeff) and spent the rest of the afternoon relaxing in the ocean. The water was flat, calm and warm and felt wonderful after the day's walk. We said goodbye to Susan and Jeff as they left on the 4:45 ferry, but we'll see them again next Saturday. We'll probably spend the rest of the evening sitting around the fire.*****
I love Cumberland.
-----
Brad's footnotes
* Also the longest walk to the bathrooms, as a result.
** She's being kind. I failed miserably during this first attempt, thanks to soaking wet wood and a lack of Boy Scout training.
*** It was almost exactly like the first half of the Darth-Vader-breathing-sound.
**** We got the MREs four years ago. We actually think they date back to the first Gulf War.
***** Wrong.